Acupressure Using Holographic Technology
"Do-It-Yourself Acupressure" Kit
Featuring Quantum Infused Holograms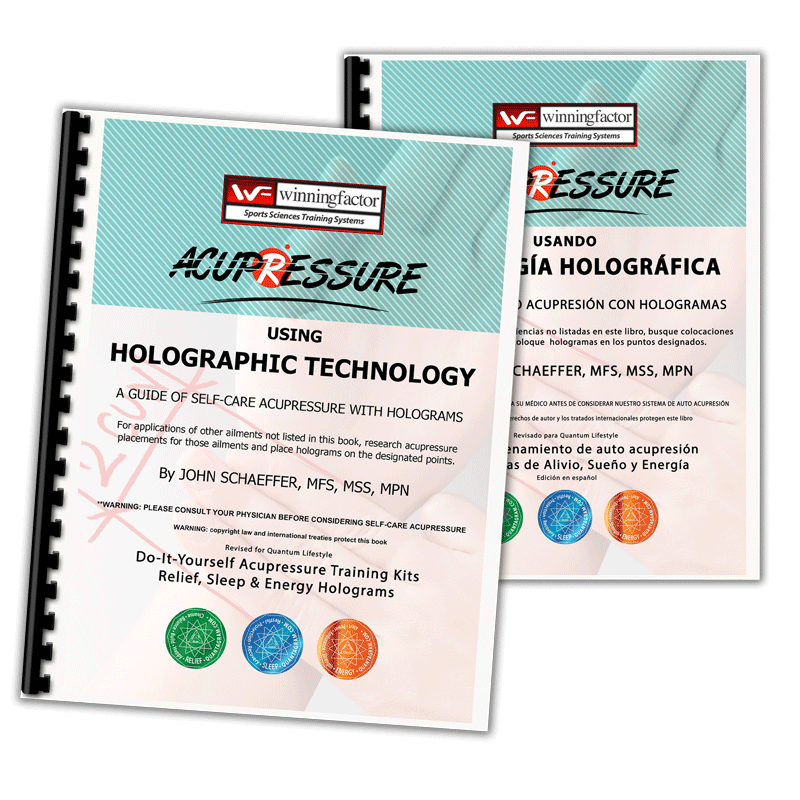 YOUR BODY'S OWNER MANUAL
Your Recipe for Health
Two friends, Ray Sickles, Quantum Lifestyle CEO, and John Schaeffer MFS, MSS, MPN, and former World Heavy Weight Champion in Powerlifting and Kick Boxing, got together more than 15 years ago and began experimenting with holograms and frequency. Additionally, John is a trainer for Pro and Olympic Athletes. This friendship became a deep search into quantum technology using frequency and finding a method to deliver harmonic frequencies into the human body through acupressure points.
John Schaeffer continues to use this technology with his Professional and Olympic Athletes in his training facility. Ray has developed the QuantaGrams, helping thousands of people in every corner of the world. The QuantaGrams is now exclusively sold by Quantum Lifestyle Affiliates.
John has written an incredible archive of acupressure points in this 193-page book, ACUPRESSURE USING HOLOGRAPHIC TECHNOLOGY, to use with QuantaGrams. A must-have book for changing your life using our QuantaGram products.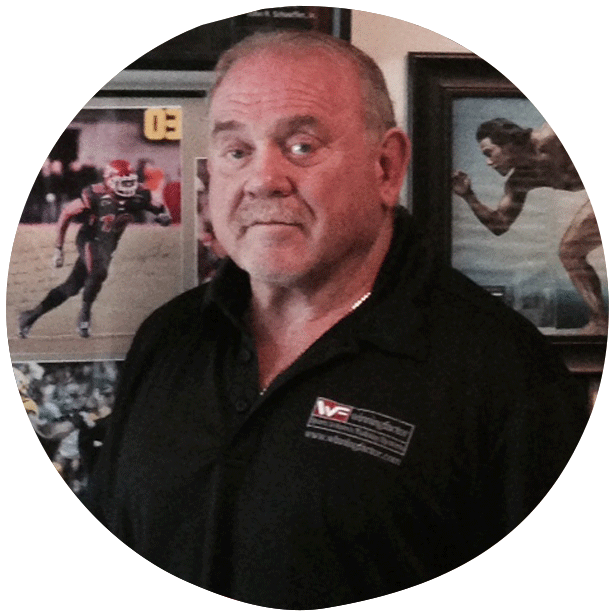 Mr. Schaeffer began his career in sports and fitness as a teen. During the past forty years, he has been an accomplished professional athlete, including being a World Champion in both Powerlifting and Professional Kickboxing. He has held numerous World records in Powerlifting and a Masters Super Heavyweight World Championship in Professional Kickboxing.
Mr. Schaeffer is a professor for the International Sports Sciences Association (ISSA) and travels nationally and internationally, teaching certification courses to fitness professionals. Certified courses included: Fitness Trainer courses, Sports Conditioning, Performance Nutrition, Youth Fitness, Law Enforcement Strength and Conditioning, and about six other certifications. He has received ISSA's Lifetime Achievement Award for his work in nutrition and fitness.
Mr. Schaeffer has authored several books, articles, fitness informational materials, and sports and fitness-related software programs. His unique training program structure and solid approach to nutrition and athletic performance have made
Mr. Schaeffer a key factor for the achievements of many top ranked High School and Collegiate athletes, as well as hundreds of World-Renowned, Professional, and Olympic athletes, such as:
Apolo Ohno, Olympic and World Champion Short Track Speed Skater
Louie Vito, Olympian and World Class Snowboarder
LeSean McCoy, NFL Running Back
Stevenson "Sly" Sylvester, NFL Linebacker Pittsburgh Steelers
Robert "Rojo" Johnson, NFL Safety Tennessee Titans
Allison Baver, two-time Olympian and NationalChampion Short Track Speed Skater
Liam Ortega, Long Track Speed Skater, National Team Member, and Olympic hopeful
Giddeon Massie, two-time Olympian and 10-time National Sprint Cycling Champion
Mark Fretta, Olympian and #1 Ranked Triathlete in the World
Alex Zolkin, World Class Professional Boxer (SHW)
Gabriel "Tito" Bracero, World Class Professional Boxer (140 lbs)
Angel "El Toro" Hernandez, World Class Professional Boxer (154 lbs)
Wayne Johnsen, Professional Boxer, featured on "The Contender" TV show, and many other world-class elite athletes from all sports worldwide.
Mr. Schaeffer is frequently called upon for speaking engagements, television interviews, and radio talk shows.
John Schaeffer has been featured on…
The Discovery Channel
Men's Health Magazine
NBC Sports
Black Belt Video Magazine
Powerlifting Video Magazine
John Farley's Health Crusades
Chicago Town Fitness
Hugh Simpson Show
…and even interviewed on the popular "Dancing with the Stars" TV show regarding Apolo Ohno, as well as many other local and regional television and radio shows and numerous, major magazine articles.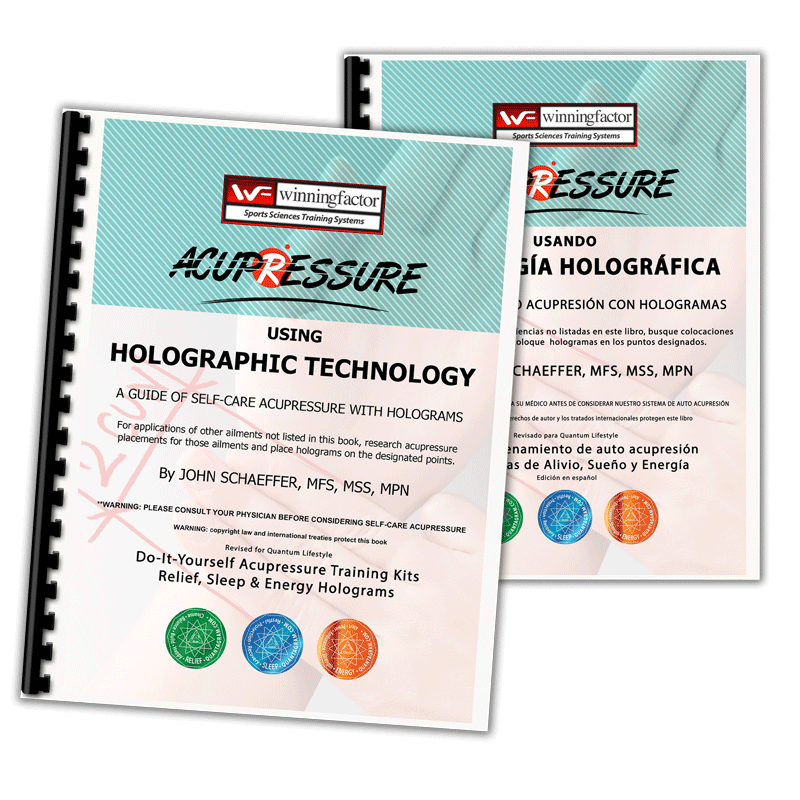 This 193 page book contains many acupoints, instructions and diagrams. This information will provide anyone a path to supporting their journey to a better sense of well being.

What is Holographic Technology?
A Word of Caution When Using Holograms
How Long and What Hologram To Use
Athletic Performance Application
Holograms and Sports
Marathon and Triathlon
Sports with Predominant Arm Strength
Sports with Predominant Leg Strength
Sports with Predominant Back Strength
Sports with Predominant Total Body Strength
Sports with Predominant Chest Strength
Hormonal Balance
Sleep
Holograms and Physical Issues
Acne, Eczema, other Skin Issues
Allergies
Anxiety and Nervousness
Arthritis
Breathing Issues
Chronic Fatigue Syndrome
Colds / Flu
Constipation
Cramps – Muscle
Depression
Diabetes
Diarrhea
Earaches
Eye Strain
Facial Wrinkles and Facial Tone
Fainting
Hangovers
Headaches
Hiccups
Hot Flashes
Immune Boost
Immune Fatigue
Indigestion / Heartburn
Jaw / TMJ
Knee Pain
Low Back / Sciatica
Memory / Focus
Menstrual Issues
Mood Issues
Motion Sickness
Neck Pain
Obesity
Parkinson's
Sexual Issues
Shoulder Pain
Sinus Issues
Sprains and Swelling
Toothaches
Wrist Pain
Electromagnetic Frequencies (EMF's)
Holograms and Pets
Location Index

Meridian Illustration Index
Bladder
Conception Vessel
Gallbladder
Governing Vessel
Heart
Kidney
Large Intestine
Lung
Liver
Pericardium
Small Intestine
Spleen
Stomach
Triple Warmer