Energy Sleep Relief Sample Pack
"Do-It-Yourself Acupressure" Kit
Featuring Quantum Infused Holograms

At Quantum Lifestyle, we want everyone to experience our flagship products.
This Sample Pack Retails for $59.95 and provides you with 12 Energy, 12 Relief, and 12 Sleep, a total of 36 QuantaGrams and instructions. Each QuantaGram is Quantum Infused by our proprietary process and formula of natural herbal and earth frequencies.
This product is available in the shopping cart for retail customers.
However, for every new affiliate, we provide this pack for free as a promotion.
Acupressure is a form of alternative health that uses physical pressure applied to specific points on the body, called acupoints, to alleviate pain and promote healing.
We created seven "Do-It-Yourself" Acupressure kits and are researching more because we want to share products, techniques, and knowledge that will enable individuals worldwide to obtain balance and harmony throughout their bodies. While also focusing on physical, emotional, mental, and financial well-being.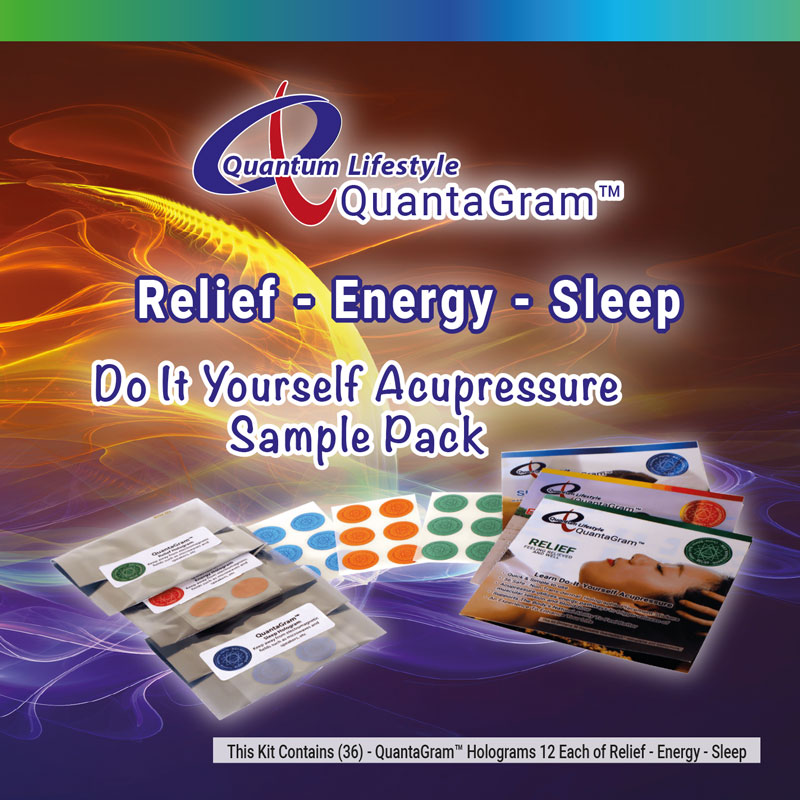 Each "Do-It-Yourself" Acupressure Kit contains 36 disposable self adhesive Quantum Infused QuantaGrams.
Also included are detailed instructions for placement on or near acupoints best to support your desired result.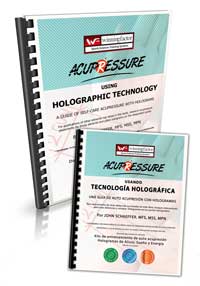 Exclusive book about holograms and acupressure
ACUPRESSURE USING HOLOGRAPHIC TECHNOLOGY
Written by John Schaeffer, Sports Scientist, Trainer of Pro Sports and Olympic Athletes. English and Spanish version.
Read More...